lychnobia
Hey you!
I am living in germany and painting since 17 years now.
Most of my work is done with acrylics and gouache, I use pencilwork and markers sometimes, too.
:)
I love to draw, read and visit concerts.
Yeah.
Short Information so far.
Bye!
Characters/References
lychnobia has 2 individual characters and 3 lists in our system.
View list of Characters/References
Last 4 images by lychnobia view all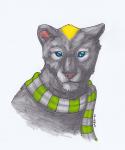 Last 4 images for lychnobia view all